Some Android devices require you to download a certificate in order to join any wireless enterprise network.
How do I know if I need a certificate?
Here's how to download and install the certificate:
1. On the bottom of this article, find he LS-Generic-Root.crt certificate file for you to download.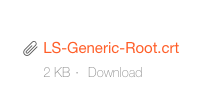 2. Once the download is complete > Tap Open
Under Certificate Name: We recommend entering the name of the Coworking space
Select the option to use it only for WiFi
Tap Ok
Note: Now to log onto the Wi-Fi network, you'll follow the same instructions found on the link below, except you will be prompted to add in a domain which is radius.lionstripe.com
4. Once done, you can now log onto the Wi-Fi following the step-by-step instructions on Android Users: How to add your Android phone to the internet.